Hi, Im Susi, a writer for Design Shuffle, a fabulous online community for design lovers to showcase their projects, find inspiration, and network with design professionals. Speaking of inspiration, I'm excited to be guest blogging about some pretties for Hazel Loves Design and sharing some pics that you and your readers will find inspiring. Pretties could be anything that pleases the eyes: art, color, pattern; a room; a piece of furniture. I've pulled together a variety of interior designs and decorative objects that caught my eye. Enjoy!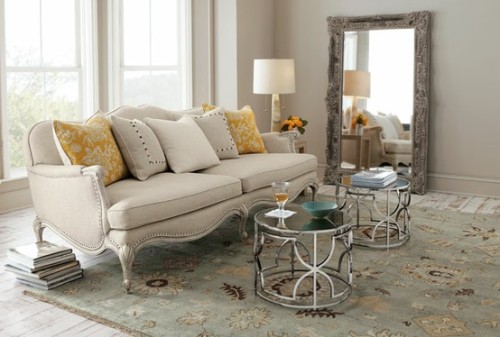 Grey and yellow is such a pretty color combination. Love the pretty sparkling silver accent tables. This living room is a pretty space that is sophisticated and stylish.
Pretty ruffled pillows in a muted rose add a lovely feminine touch to this contemporary living room. Ruffles are a pretty design element for pillows, throws, curtains and linens.Graphic black and white makes for a pretty bedroom filled with pattern. The mix of patterns and subtle accents of blue more than make up for a lack of color in this pretty bedroomAnother pretty in a pink room full of pretty things, colors and patterns. Love the polka dot wallpaper in the nooks. The mushroom grey is a great accent color for the pale pinks. If you're looking for pink living room designs for inspiration, this one has you covered. A pretty powder room is perfectly decorated in brass, white and salmon. Love the desk turned vanity in pretty salmon pink with brass accents. Venetian mirrors are always so pretty
Such a pretty nook for lounging or reading. Love the saturated pink and oranges. Is that a portrait of Jane Austen? Let's pretend it is. So pretty.
Pretty art work, like this feather, adds a little something extra to a vignette of pretty objects. There are great sources for pretty artwork online that you can frame inexpensively.Many times with decorating ideas, pretty things are the small things, the little details that add a personal touch, add sparkle and flair. Love this collection of shells, silver objects, tiaras and perfumes. A very pretty vignette.